How It Works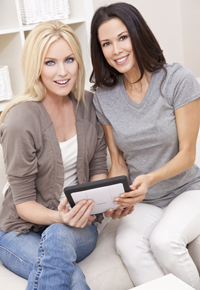 At the heart of the EZ Pleating System is a truly amazing pleat and spacing calculator that makes it possible for the workroom owner and operator to sew perfect pleats each and every time without the need for complicated math or special equipment. Thanks to this revolutionary system, drapery pleating is a snap. Anyone can become a pleating expert in minutes - and best of all, no prior pleating experience is needed. All you need is a web browser, and Internet access, to generate easy-to-read pleating instructions telling you exactly where to place your pleat marks on your fabric for fool-proof error free pleating each and every time.
Because we know that you have to sell the job before you can pleat the job, we have included several drapery yardage and pricing calculators with the EZ Pleating System. These yardage and pricing calculators make it possible for you to provide instant and accurate yardage and pricing estimates to help you close the sale. The following yardage and pricing calculators are included with the EZ Pleating System and can be used in the workroom, and by designers, decorators and retailers:
Pleated drapery yardage and pricing calculator
Rod pocket drapery yardage and pricing calculator
Café curtain yardage and pricing calculator
HOW DOES IT WORK?
Step 1: Subscription Selection
Before using the EZ Pleating System you will need to register as a subscriber. This can easily be accomplished by visiting our online store and choosing the subscription option that best suits your needs. You can choose a monthly subscription, a six-month subscription or a one year subscription. After you have selected your subscription and completed your purchase you will select a login name and password. This login name and password will give you full access to the EZ Pleating System and all that it has to offer. Your login name and password can be used on your Windows desktop computer, your Mac desktop computer, and on your iPhone, iPad or Android device.
Step 2: Login
Now that you are a subscriber, you can use your login name and password to gain access. To login, visit www.ezpleating.com using your favorite web browser and click the "Login" button. Next, enter your user name and password and click the "Login" button beneath the user name and password to proceed. Once logged in, you will see the member's dashboard.
Step 3: Select a Calculator
From the member's dashboard you will have the option to manage your account, edit your personal and billing information, upload your company logo, create a custom login page, process pleating instructions, create a guest user account, or generate a yardage and pricing estimate. From the member's dashboard, make your selection by hovering over the title of your choice and clicking on your mouse (or finger if working on a mobile device). Regardless of what selection you make, you'll need nothing more than a web browser and an Internet connection to access our tools.
Step 4: Using a Calculator
All calculators have a similar look and feel. You'll quickly become familiar with the well organized web based input forms that include an assortment of easy to identify icons for saving and retrieving quotes, and for entering pricing information and fabric cutting instructions.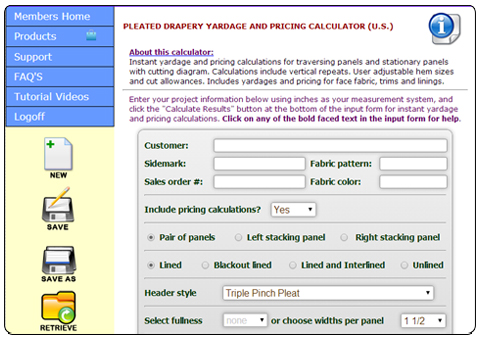 Step 5: Workroom Pricing
The yardage and pricing calculators can produce quotes with yardage and pricing calculations, or with yardage calculations only. To include pricing calculations, you will first need to enter your workroom's labor and material pricing for each calculator and store the pricing as your default data. You can override your default pricing on a quote by quote basis. There are up to twelve user defined pricing fields in each calculator making it possible for you to add custom charges such as: installation charges, silk fabric upcharges, hardware charges or hand sewing of hems or pleats. When allowing access to your account through a guest login name and password, your guest users will not be able to change your pricing data.
You can also enter fabric prices for face fabrics and trims to provide for a complete labor and materials pricing quotation. There are special user defined fields that make it possible to mark up or mark down your quotes by a fixed percentage.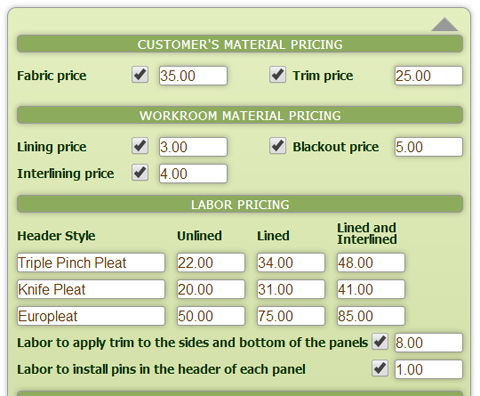 Step 6: Printing and Emailing Quotes and Pleating Instructions
You can print and email yardage and pricing quotations, and print custom pleating instructions. When emailing quotes, you can send your email as a PDF attachment or email a text version directly through the EZ Pleating System as a text based email message.
Step 7: Learn From Watching a Video
Watch our online tutorial videos to learn more.