Learn More About The EZ Pleating System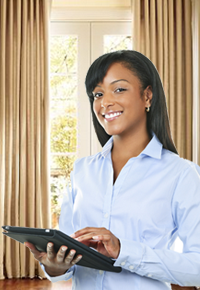 This isn't your grandmother's "pleating system"...
We've heard from countless workrooms about how much they dislike pleating drapery. In fact, a good number of them shy away from pleated drapery because of the complications associated with the pleating process. They enjoy making and sewing the panels - it is the complicated mathematics that are required to figure the pleat spacing and pleat take up calculations that scares them away.
Some use a pencil, paper and a calculator as their starting point. They make marks on paper or buckram in a desperate attempt to arrive at uniform, consistent spacing. They mark and erase and mark and erase until there is no eraser left on the pencil. Others use an elastic band that stretches across the fabric while referencing charts and look up tables to guide them with their markings. Ouch! Did that thing jump off the table again and hit you in the face? Regardless of the method that is used, one thing is clear - everyone seems to hate the pleating process!
Now don't get me wrong. There are a few workrooms, and I mean only a few, that find pleating easy. They are fortunate enough to have access to high end pleaters that figure the spacing, sew, pinch, and tack all in one machine. Unfortunately, these machines are expensive and out of reach for most!
If you are lucky enough to have access to one of these machines, they still require charts, look up tables and a good amount of experience to operate. As good as these machine are, they still aren't capable of hiding the seams without excessive manipulation and can only handle a limited number of fabric widths at a time. If those seams run down the middle of a space or pleat you can't call it custom drapery, can you?
We've also learned that many workrooms leave the pleating to one particular person who has acquired the skills to get the job done. We all know what happens when that one person is not accessible! Everything comes to a halt!
How would you like to sew perfect pleats each and every time without the need for complicated math or special equipment? You can! Thanks to our revolutionary EZ Pleating System™, pleating is a snap. Anyone can become a pleating expert in minutes - and best of all, no prior pleating experience is needed. Sign up today and put the power of the EZ Pleating System™ to work for you.


At EZpleating.com, we've been doing what we always do - working tirelessly to address the needs of the workroom owner and operator. Thanks to the input and direction given to us from industry experts like you, we have completed the development of the most amazing pleating product ever created! The EZ Pleating System™ is so simple to use it can be mastered in a matter of minutes by both the beginner and the most advanced fabricators. No charts, no look-up tables, no guessing! Simply logon, enter your finished dimensions and let the EZ Pleating Calculator™ tell you exactly where to place your pleat markings on your fabric while making certain that your seams will always be hidden next to a pleat. You ask, "how could it be that simple? Is this even possible?". Well it is! We've created a patent pending process that makes it possible for you to pleat perfect drapery each and every time without ever having to perform a single calculation.
But before going any further, I have to point out a major deficiency in all other pleating products and let you know why they are so difficult to use. What I am going to say will make the owners of these other pleating products very nervous. Why? Simply because I am going to reveal to you the truth about why these products are so difficult to use and why they cause so much frustration for those who purchase them.

As a workroom professional you know that most fabrics come rolled on cardboard tubes in widths of 54". It is not uncommon to see other sizes like 58", 48", 24" or 118", but 54" is the most common. I should point out the obvious. Not all 54" fabrics are exactly 54" - sometimes they are 55" or 55 1/2" wide. You may need to remove a selvage edge to relax your fabric which results in a reduced width. Why do I point this out? Why is this important to you? Because all of the pleating products in the market place today, with the exception of our EZ Pleating System™, depend on charts to aid in the pleating process. These charts are all tied to a specific fabric width such as 54", 48" or 36". The problem with all of these systems is that their charts refer to specific fabric widths and do NOT take into consideration that the widths might change based on trimming and pattern matching.
For the reasons that I listed above, all pleating systems that refer to charts are flawed! Unless you are working with solid fabrics that are the exact width listed on the pleating chart, the calculations will be in error! Yes, what I am saying is that all other pleating systems have an inherent flaw in their design. This is the reason why they are so complicated to use. You follow the instructions to the letter and you never seem to get results that work. You wind up experimenting until you get so frustrated that you give up and go back to the pencil, paper and calculator system. Believe me when I tell you that it's not you! Their systems are flawed.
Sure, if you take the time to learn the techniques, you can pleat your draperies using these flawed systems by adjusting the pleat sizes as you go. However, more often than not you end up with a panel with inconsistent pleat sizes that vary wildly across your fabric widths. I wouldn't call that custom made draperies, would you?
Think back to a job that you did where you started with 54" fabric. To match more than one width of fabric together you had to go several inches into the fabric to find your match. You had to remove a few inches from each of your fabric widths in order to seam your panels together. The resulting widths were no longer 54" but something like 48" or maybe 49". In extreme situations you could lose 10" or so of fabric to find your match. This is why a pre-determined chart could not possibly work in the real world!
What I am pointing out is that the real world is very different than what is printed on a pleating chart. It is virtually impossible for anyone to publish a chart that will address all of the possible window sizes, fabric widths, and patterns that exist. The inventors of these products don't want you to know this or they will not be able to sell you their product. This is why the ONLY way to pleat draperies is to use a chartless system where the computer does all the calculations for you based on your actual sewn together fabric widths, not your anticipated sewn together fabric widths as listed on a chart.
Now that the secret is out, don't waste another minute of your time with chart based pleating systems! They are costing you time, money, and a lot of frustration.


So, how do we do it? What makes the EZ Pleating System™ so simple and accurate to use?
No one else has ever solved the pleating challenge using computer software. All prior pleating inventions were mechanical in the sense that they relied on charts and physical gadgets to accomplish their goals. I personally researched dozens of different inventions that were designed to make pleating simple. Each and every one of these solutions encompassed a series of charts along with a mechanical gauge or gadget of some sort. I realized after studying their designs that they all had one flaw in common - none of them could know for certain the exact location of each of your seams after the fabric had been sewn together. Because of this common flaw, their systems could not be trusted.
It was this piece of information that we needed to develop our software pleating solution. We set out to develop a process that would pleat YOUR drapery based on the exact width and location of each seam on your sewn panel. Our software solution had to be easy to use, accurate and cost effective. With these objectives in mind, and with the help of industry experts like you, we accomplished the following objectives and then some:
An Internet cloud based software pleating solution that can be accessed from anywhere with a simple login name and password.
Compatibility with the PC, Mac, iPad, iPhone and Android devices.
Easy to use with visual pleating instructions that anyone can follow.
Easily toggle between numeric pleating instructions and our proprietary alpha-numeric pleating instructions.
Pleating instructions that guarantee that all seams are hidden at the side of a pleat.
Easily adjust your target space sizes and pleat sizes.
Consistent pleat take-up sizes that vary slightly across all widths.
Fixed space sizes across all widths.
Automatically calculates trim off amounts when necessary to arrive at consistent pleat take-up sizes.
Easy to read pleating instructions based on 1/8" increments on a standard ruler.
Printable instructions in detailed format on standard 8 1/2" x 11" paper.
Pleating instructions that work hand-in-hand with our EZ Pleating Gauge™ designed to produce consistent spacing across all fabric widths and speed up the pleating process.
Seamless integration with our EZ Pleating Ruler™ making it possible to mark your pleats and spaces using easy to read alpha-numeric ruler markings.
No charts! No look-up tables. No complicated math.
Free email based support


There is no better time than right now to take control and put our EZ Pleating System™ to work for you.
By simply following our EZ Pleating process, it is impossible to get it wrong. Our system is laid out in a very easy "paint-by-number" format. I don't want to see you passing up drapery panel projects that can make you money just because you are intimidated by the pleating process. Don't send those panels out to a larger workroom to get them done. With our EZ Pleating system, you can do the work in house, have better control over your projects, and keep all the money for yourself.
Let me walk you through the steps that you'll personally experience when using the EZ Pleating System™.
Sew together all of the individual cut pieces of fabric that are required to make a single panel. Place your unhemmed panel face down onto your work table and press out your seams.
With your panel face down on your work table, measure the width of the unhemmed panel starting from the overlap raw edge across all widths to the return raw edge and record this number on the EZ Pleating Worksheet. Next, measure from the overlap raw edge to your first seam and record the value in the box labeled "width 1" on your worksheet. Continue to measure and record the distances between all seams. When you arrive at the last width, measure from the last seam to the unhemmed raw edge and record on your worksheet. Be certain to record your measurements in decimal format and in inches in 1/8 increments (ex. 3 1/8 = 3.125, 5 1/4=5.25, 34 7/8=34.875). The EZ Pleating Worksheet has a decimal conversion table for easy reference.
Leave your panel face down on your worktable. Do NOT add in your linings and interlining at this time. Take the EZ Pleating Worksheet to your computer, login to your ezpleating.com account, and load the EZ Pleating Calculator. Next, enter your rod width, the number of widths per panel, the return size, the overlap size, your fabric width and any other project specific information requested.
Click the "EZ Pleat My Drapery" button to view your pleating instructions. Your pleating instructions will be displayed in an easy to read format. Review and carefully follow the instructions to mark your pleat spacing.
If using our EZ Pleating Gauge or our EZ Pleating Ruler, make certain to set your gauge to match your pleating instructions and match the gauge to the EZ Pleating Ruler as you mark.
Sew your pleats using your pleat markings as a guide and pinch and tack as normal.
We've provided you with a lot of information here because we want you to have a good understanding of how our EZ Pleating System™ works and what you should expect from it when you put it to use in your own workroom.
The sample visual pleating instructions below illustrate how easy it is for you to pleat your drapery. The EZ Pleating™ instructions tell you exactly where to place your marks on your fabric for fool-proof error free pleating each and every time.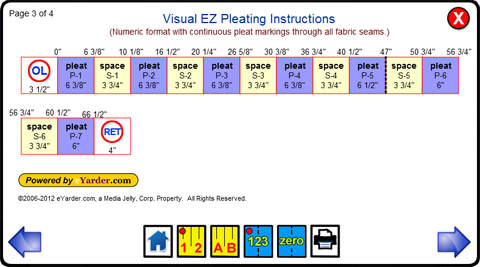 I've been able to help so many workrooms learn how to make perfect pleats without any special skills or experience, and now I want to help you!
Just think about it: a month from now you will look back and wonder why the pleating process was so complicated! Stop turning away profitable work and arm yourself with the tools you need to make great money with pleated drapery.
By now you are asking yourself what would a pleating system that can do all of this cost me and can I afford it? Since our goal is to have everyone in the industry using our EZ Pleating System™, we have priced a one-year subscription at the unbelievably low price of: $149.95 and a six-month subscription at the unbelievably low price of $79.95. That's only $0.41/day for unlimited access to the tools that you need to achieve perfect pleating each and every time. But that's not all. We are bundling our EZ Pleating System™ with our Traversing Pleated Drapery Calculator to help you generate instant, accurate yardage calculations for your drapery projects.
There is really nothing to think about! For less than a cup of coffee each day, you can put the power of The EZ Pleating System™ to work for you.
Don't delay another second! It's costing you more money by not having our EZ Pleating System™. Order our EZ Pleating System™ today and watch your profits grow!
Sincerely,
Christopher LoPresti
President
PS: Remember, you don't need any prior experience; you don't need any specialized training. All you need is access to our EZ Pleating System for instant yardage calculations and perfect pleating, each and every time.